Yarn: Long Dog Yarn Sock in the First Blush colorway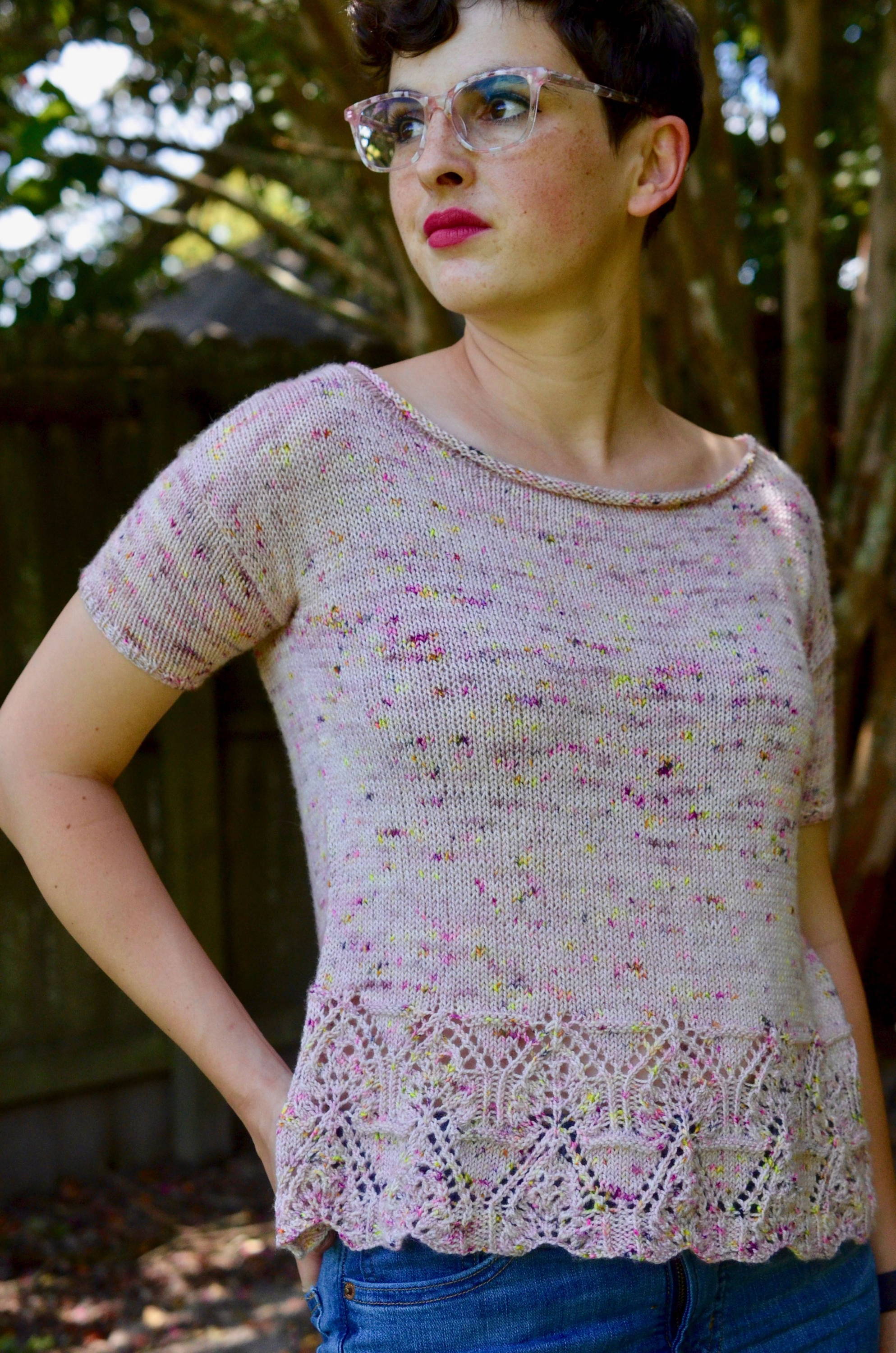 August 28, 2019: Caitlin Hunter's actions to silence and gaslight Black Indigenous People of Color (BIPOC) and allies within the maker community on Instagram go against my ideals and, thus, the ideals of this company. Her inaction and empty statements only continue to do harm and foster an unsafe environment for the marginalized within our community. I do not wish to erase my previous history of utilizing Caitlin's patterns in conjunction with my business, but I strongly want to state that at this time Long Dog Yarn does not support Caitlin Hunter's actions and words, and I will no longer be promoting her work to showcase my yarns.
________________________________________________________________________________________________________________
Earlier this spring, I set a goal for myself to knit some more warm weather knits, something that my wardrobe was severely lacking. After learning to knit in Toronto, I had my fair share of heavier, long-sleeve sweaters, warm hats, and cozy cowls. But since moving back to the US, I've found myself in warmer climates and those knits just don't get their fair share of wear. So I made myself a list of five summer tops that I hoped to tackle before the weather turns (a bit) cooler to round out my knitwear wardrobe and give myself some options to wear during these warmer months.

With the completion of my Tegna, I've knocked out three of the five tops on my list (plus my spontaneous addition of the Soldotna crop). Tegna is the second pattern from designer Caitlin Hunter that I've finished, and I doubt it will be the last (I already have plans to tackle her Guthrie sweater in fingering weight a little later on this year). I really enjoy Caitlin's design aesthetic: relaxed, with a hint of playful femininity, but my favorite part of wearing one of Caitlin's designs is that I always feel great when I have it on. As with the pattern for the Soldotna crop top, I found the Tegna pattern well written and very easy to follow. The lace detail is a bit more advanced, but once you tackle it, the rest of the sweater is straight stockinette. I didn't make any alterations to the pattern as I worked it and am very pleased with how my finished sweater turned out. It fits seamlessly in my current wardrobe. It's amazingly versatile and easy to style with just about anything, from jeans, to shorts, and even over a skirt/dress. I know it will easily get lots of wear all year round.
I decided to play off the flowery aspect of the lace hem and chose to knit my top in the floral-inspired First Blush colorway using LDY Sock. The delicate lace motif in this top needs a yarn that won't overpower it's intricate nature, and I felt the pastel blush pink in this colorway suited it perfectly. Even with the bright pops of neon green and bright pink, the lace detailing stands out, while the speckles can shine in their own right on the stockinette portion of the body.My Soldotna Crop Project Page on Ravelry