Pattern by Inese Sang
Yarn: Long Dog Yarn Sock in the Drop Dead Gourd-geous, Pumpkin Patch, and Stone Eater colorways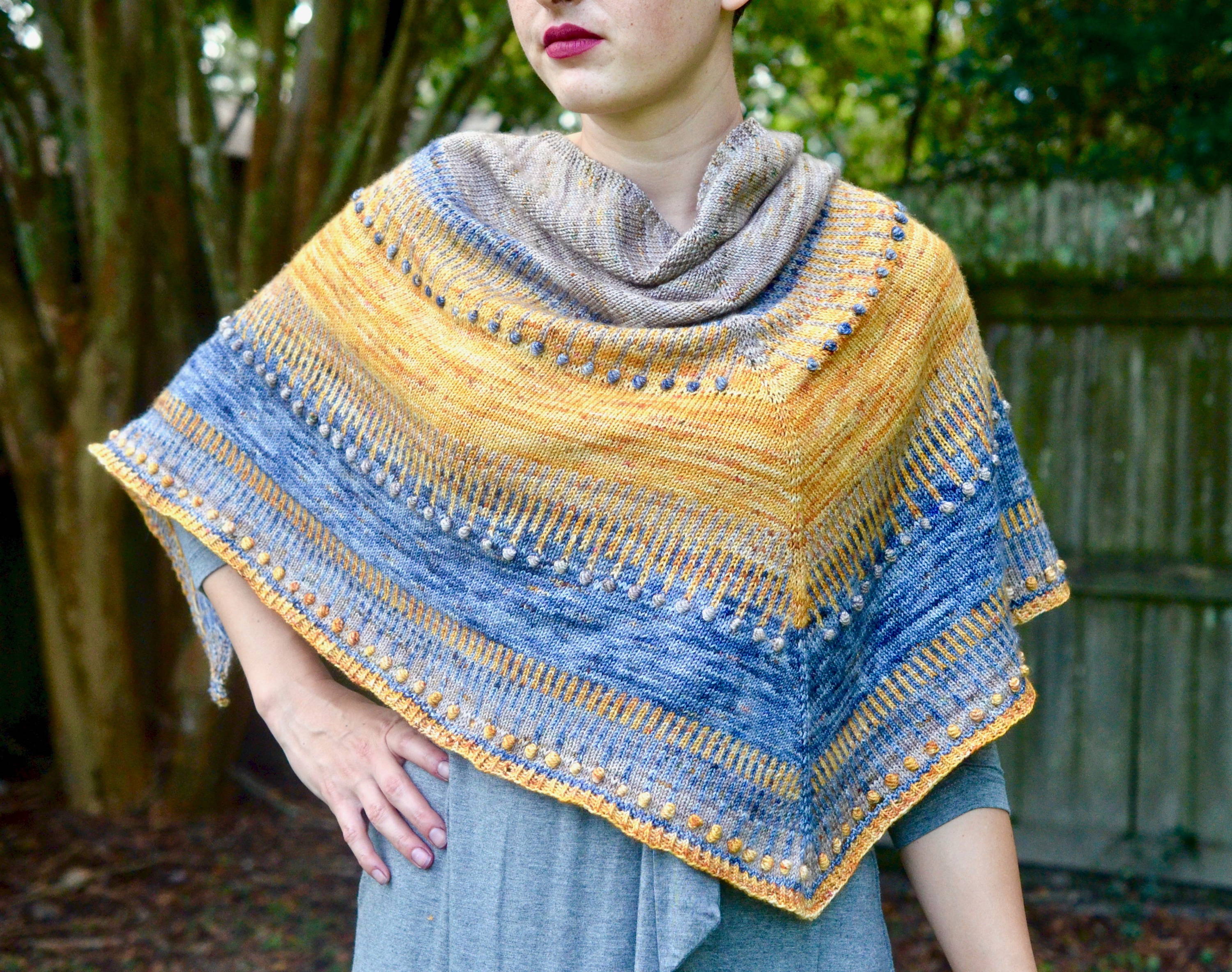 Do you believe in love at first sight?
Every once in awhile, a pattern comes along that proves it exists for me. The Ambershore shawl was one of those patterns. The pattern was released on Ravelry in August, and when I stumbled upon it, I had just debuted my fall collection of colorways. It was a coincidence of perfect timing, because this shawl seemed like it was made to showcase those new autumnal colors, and as soon as I saw it I wanted one for myself. So I pulled three skeins of Sock from the shop (a nasty habit I've picked up since one room of my house can easily seem like it's my own, personal yarn store) and immediately cast on.
For my Ambershore shawl, I immediately gravitated to the Drop Dead Gourd-geous, Pumpkin Patch, and Stone Eater colorways. They were the ideal autumnal, earthy tones with just the right amount of contrast to perfectly pop with the color work detailing of the shawl. Like I said before, this whole project was just meant to be.
My excitement for this pattern completely overwhelmed my distasted for working stranded knitting flat (meaning I'd have to purl the colorwork and properly carry the floats on the wrong-side of the fabric) and the small fact that I'd never knitted bobbles before. All tiny details to me when I was so very smitten with making this shawl for myself.
And in the end, it was not so bad after all. In fact, I adored every minute of working on this project. The color work is very simple and lends itself easily to being worked flat, and this project has definitely increased my confidence in exploring more flat stranded knitting projects. The instructions for working the baubles with a crochet hook were very easy to follow, but Inese also links to a video tutorial for more visual learners. It did take me a few goes to get the baubles even and the bauble rows were a bit slow going, but I think they are such a fun detail that it's worth the extra time it takes to get them just right.
All in all, I loved knitting this shawl and, oddly (because generally I'm more of a product vs process knitter), since it's been off my needles I've actually missed working on it. But the nights are finally cooling off here in southern Louisiana and I'm enjoying the excuse to toss this beauty over my shoulders for a little extra warmth in the evenings.
So do I believe in love at first sight? When it comes to knitting, very much, yes.
My Ambershore shawl Project Page on Ravelry
Pattern: Ambershore by Inese Sang
Yarn: Long Dog Yarn Sock in Drop Dead Gourd-geous, Pumpkin Patch, and Stone Eater colorways