Yarn: Long Dog Yarn Merino DK in the colorways Twilight, On the Fence, Enchanted, and Lady Amalthea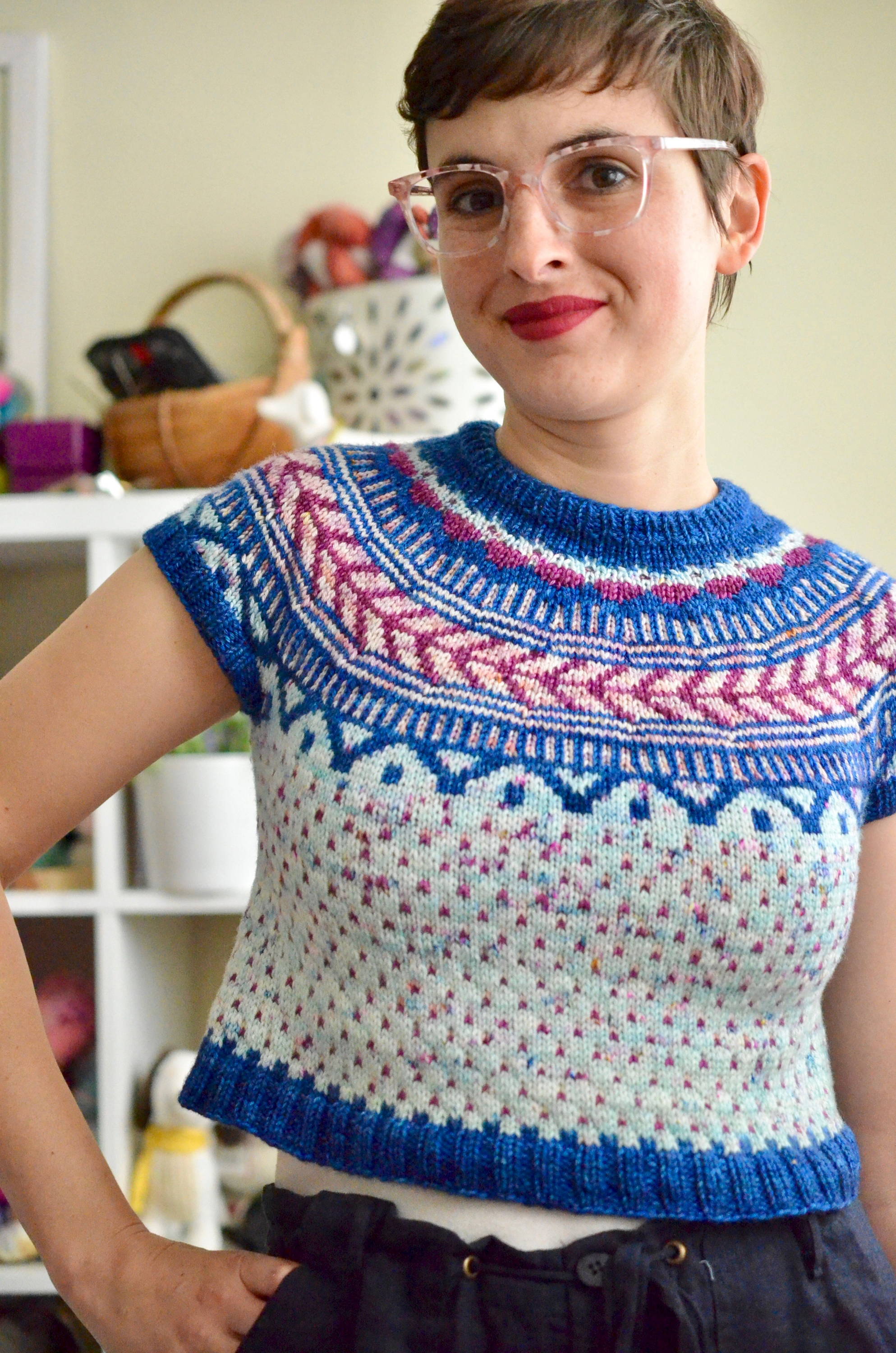 August 28, 2019: Caitlin Hunter's actions to silence and gaslight Black Indigenous People of Color (BIPOC) and allies within the maker community on Instagram go against my ideals and, thus, the ideals of this company. Her inaction and empty statements only continue to do harm and foster an unsafe environment for the marginalized within our community. I do not wish to erase my previous history of utilizing Caitlin's patterns in conjunction with my business, but I strongly want to state that at this time Long Dog Yarn does not support Caitlin Hunter's actions and words, and I will no longer be promoting her work to showcase my yarns.________________________________________________________________________________________________________________
This sweater really snuck up on me.
I honestly did not see myself knitting this top. While I adore the color work pattern of the sweater's yoke, I do not consider myself a crop top type of gal. I am one of those people who is constantly checking to see if my top is pulled down in the back and feel extremely uncomfortable when my lower back is bare. I also tend to steer away from DK-weight sweaters simply because I do not live in a DK-friendly climate. So the idea of a DK-weight cropped sweater did not seem like it would be for me. Until I saw it in action...
While at a trunk show at Make One Yarn Co. last month, one of the shop owners was totally rocking this top. And suddenly, I needed one. Like yesterday.
I started playing around with potential color combinations almost immediately when I got home from the show. Choosing four colors that work well together in a color work top was probably the most difficult hurdle for me in this knit. It can be difficult to visualize how the colors will play with each other in the pattern without actually working up a swatch. And this pattern requires that all four colors interact with each other at some point, so there needed to be coordination between the colors, along with appropriate levels of contrast for the color work to pop.
I was really struggling with selecting colors until I received a piece of helpful advice from an Instagram friend: choose two tonal colorways + two speckled colorways. That was my "aha!" moment. And once I had that key piece in place, the rest of this project was smooth sailing!
The pattern was an absolute delight to knit. Like other patterns by Caitlin that I have knit, it was very well written and straight-forward. The only issue I had heard from previous knitters was that the neck had a tendency of being a tad too tight, so I cast on and worked the neck ribbing in the larger needles used for the body. Even with that modification, I still find the front neck wears a little high for my personal preference, but it's not something that will keep me from wearing this sweater or stop me from my plans to knit another one later this summer. (I already have another color palette selected. I'm telling you, once I had the secret to selecting colors for this top, I could not be reined in.)
This project flew off of my needles. The whole thing was finished in under a week. I'm not kidding. I don't think I've ever knit a sweater that quickly: one of the benefits of a short-sleeved, cropped, DK-weight sweater. It was very, very satisfying to finish a project so quickly. I adjusted the body length slightly by adding two more repeats of the chart because I wanted the top to fall at my true waist, and I'm very happy with the finished length of my top.
Styling the top has been something that has forced me to get a little creative with my wardrobe, as crop tops are not something I typically wear, but Instagram has been an amazing tool for styling ideas (check out the hashtag #soldotnacrop for lots of great ideas). I particularly love this top styled over a dress, however I decided to go with some high-waisted linen pants for my finished object photos. And I've already worn the sweater a couple times this spring without any discomfort, so I'm hopeful this top will become a wardrobe staple throughout the year.
My Soldotna Crop Project Page on Ravelry
Yarn: Long Dog Yarn Merino DK in the colorways Twilight, On the Fence, Enchanted, and Lady Amalthea