Pattern by Jennifer Steingass
Yarn: Long Dog Yarn Sock in colorways In the Forest of the Unicorn & Naked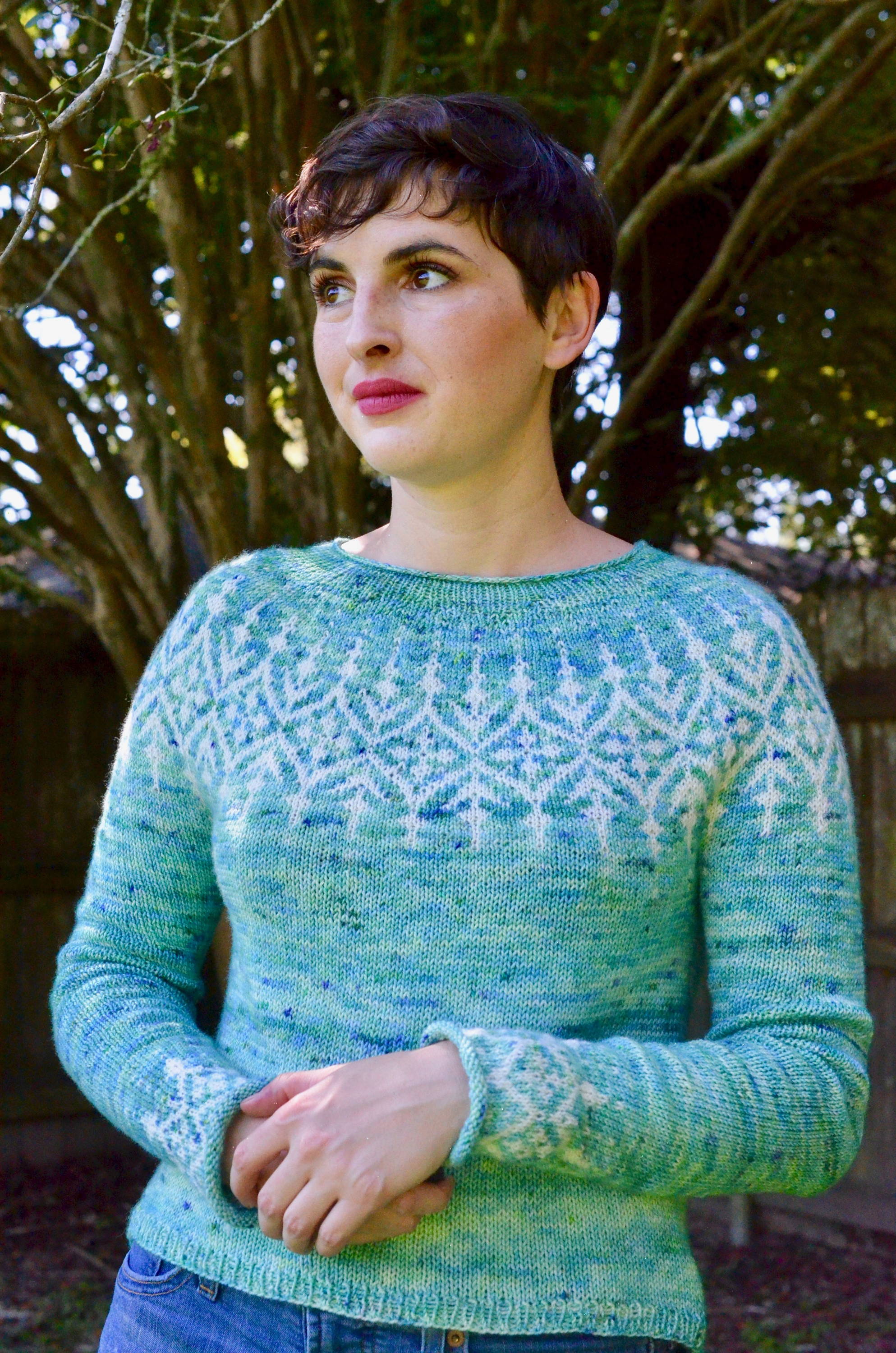 When it comes to knitting, there is always something new you can learn. Even when it comes to techniques you thought you were fairly experienced in. Stranded knitting was one of the very first techniques I learned when I first started knitting. I wanted to tackle a modified version of the Paper Dolls pattern with Totoro across the sweater yoke, even though I had never knit a sweater before or done any sort of color work. But that didn't stop me from jumping right in. I looked up a few tutorials for stranded knitting online and decided that the best way to learn was just to give it a shot. 
Since then, I've worked several other color work projects and it is easily one of my favorite knitting techniques to use. But one thing that never really popped onto my radar was color dominance. That is until I started working the Gardengate pattern earlier this summer and a wee little note within the pattern made me realize that I had been carrying my colors incorrectly this. whole. time. 
I have to thank Jennifer. It's those little details in a pattern that can really make it standout from the pack, ensuring that it is accessible to those newer to stranded knitting and setting those of us who consider ourselves old pros on the right track after years of learning bad knitting habits. Now I really feel re-invigorated to once again tackle the beautiful wide world of stranded knitting! I want to knit all the color work things with several other stranded knitting sweater projects on my queue for this fall/winter. 
But let's not get ahead of ourselves, as the weather here hasn't even remotely reached temperatures where I can even enjoy this beauty (it was about 93F when I took these pictures, but I was growing very impatient to blog about this sweater).
I enjoyed knitting this pattern so much! You begin with the excitement of the beautiful yoke, with an intricate color work motif inspired by wrought iron gates. I looked forward to every stitch of this yoke and loved watching the pattern emerge. Once the yoke is finished, the body is worked in straight stockinette, with a wee bit of short row shaping on the bottom hem to create a slight high-low hem light. I am a big fan of a subtle high-low hem because I prefer to have a little extra coverage on the backside. 
This pattern includes both short- and long-sleeved versions of the sweater, and originally I intended to knit it with short sleeves as I was a little short on the suggested yardage. As I finished the body, however, I could tell I would have more than enough yarn left to tackle long-sleeves. Since my newly awoken love affair with stranded knitting was in full swing, a chance to work the sleeve motif was plenty of incentive to change my original plans. 
I always work my sleeves with the magic-loop method, but after a few rounds of the color work motif, it was clear my floats were not loose enough when I would switch between the needles. To overcome this problem, I ended up working the sleeves inside out, so the floats were forced around the outside of the sleeve. It's a tip I had read about for color work on socks, and I think it really helped the motif on my sleeves come out evenly. I will definitely use the technique again for small circumference stranded knitting. 
All in all, I highly recommend this pattern. It was written very clearly and concisely and produces a gorgeous finished sweater. My only complaint would be that the yoke does tend to bunch up when I lift my arms, but I think that's just due to the thickness of the color work section and is just the nature of the beast when it comes to these types of yoked sweaters. This will not be the last of Jennifer's patterns that I knit, and I'm looking forward to exploring more of her gorgeous color work patterns in the future.
My Gardengate Project page Ravelry
Pattern: Gardengate by Jennifer Steingass
Yarn: Long Dog Yarn Sock in the colorways In the Forest of the Unicorn & Naked